Christmas dinners and meals are just around the corner and it is time to choose your Christmas menu. With this brownie with aloe vera you can't lose with a dessert that is suitable for everyone. The secret? Its texture, thanks to Aloe Vera!
Did you know that Aloe Vera is edible? In addition to all the benefits that using this plant gives us on our skin through its topical use, you will be interested to know that by eating it you are also helping the digestive system. This makes it a perfect ingredient to use during these dates when we tend to eat more than usual.
The part that we are going to use will be the gel inside the plant. For us, the best way to use it is by adding juices that are already directly prepared, because this way we avoid the entire process of extracting the aloinfrom the plant.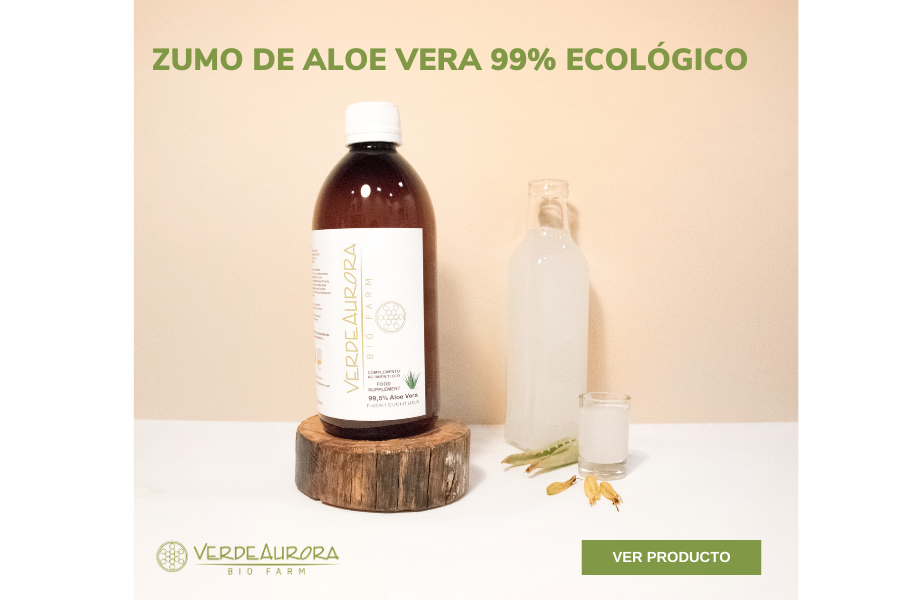 Additionally, due to its thickening action, it is the perfect ingredient if you want to avoid adding flour to your dishes. Thanks to this, the recipes we make with Aloe Vera will be suitable for people with coeliac disease. The dessert that we share today is a chocolate brownie with Aloe Vera that has an added plus; since it does not contain eggs it is also suitable for Vegans.
Do you want to know how to make them? Below you will find all the ingredients and the step by step recipe below, but if you prefer, you can also watch the video at the end with a summary of the process.
Brownie with Aloe Vera Ingredients:
3 tablespoons of Aloe Vera Juice

2 tablespoons of pure organic cocoa

1/2 cup of walnuts

3/4 cup raisins

2 tablespoons of gofio (can be substituted for almond flour)
*gofio is a kind of flour that is used especially here in the Canary Islands. The difference with flour is that gofio can be eaten raw since the grain is toasted before being ground. Because we are an aloe vera farm in Fuerteventura, it seemed like a good idea to use this ingredient in this recipe. However if you don't live here, it's difficult to find it or if you can't eat gofio, you can substitute it with another ingredient without any problem because the texture of this brownie is given by Aloe Vera.
You can take advantage of the bottle of leftover Aloe Vera Juice by incorporating it into your daily routine by taking 20 ml every day on an empty stomach (if you want to know more about this routine we leave it for you here)
Step by step:
Mix the nuts and raisins in a food processor until you get a homogeneous mixture.

Add the cocoa powder and Aloe Vera juice and continue mixing.

Finally, add two tablespoons of gofio when the previous mixture is well moistened by the Aloe Vera juice.

Take the mixture to a tray and decorate with nuts on top.


At this time, because we have used gofio, we could eat the mixture directly since it does not need to be cooked to be able to eat it, but we like it with a touch of oven baking.

Put the tray in the oven at 150C on lower heat for 20 mins. Preheat oven while doing previous steps.
After these steps, all you have to do is plate it and… enjoy this Brownie dessert with Aloe Vera!
Did you like it? The truth is that it is an easy dish to make, healthy and delicious. Normally brownie recipes use eggs, flour and sugar and it is incredible that the texture that is achieved with this recipe without any of those ingredients.
From Verdeaurora Bio Farm we want to wish you happy holidays and that you enjoy these days sharing moments with your loved ones. If you make this recipe, we'd love for you to tag us on your social media to see the results.
We have recently made a gift card available on our website to enjoy our guided experiences. In this way, we would love to accompany all those who want to count Verdeaurora Bio Farm in during this Christmas season. Following this link we explain how to purchase it, but if you have questions, you can contact us through Instagram (@verdeaurorabio), Facebook (Verdeaurora Bio Farm) or our contact email.
¡Happy Holidays, extended family!