Beach, nature or both?
Our rustic homes offer the opportunity for you to decide what you prefer, without having to worry about being in crowded areas. Each one of them offers its own charm and a little piece of the  Mesa-Méndez family.
Our properties meet all the specific cleaning requirements, both in terms of products and types of treatments as well as cleaning protocols.
If you have any questions, send us an email to comunicacion@verdeaurora.com or write to us through our social network profiles, and we will be happy to answer them.
You may also consult our blog article on activities that may be carried out during the sanitary alert on the island of Fuerteventura, where we respond to some questions in reference to rural tourism.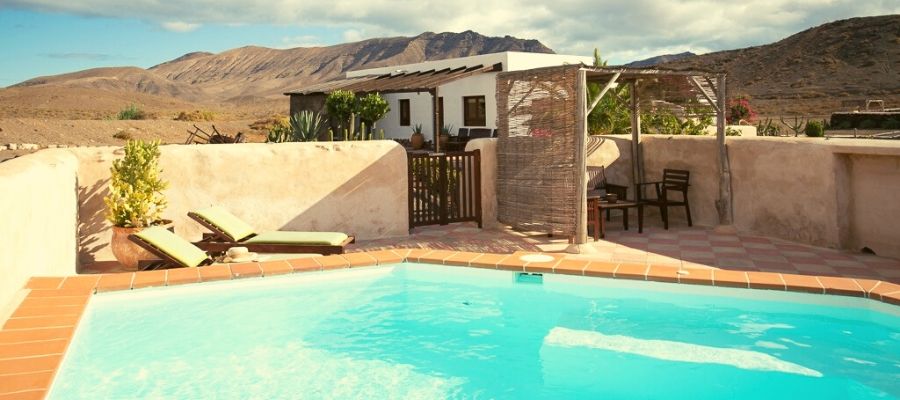 Tenicosquey
One of the towns with the fewest inhabitants in Fuerteventura, surrounded by history and tradition, and with such tranquility that it is almost possible to listen to time passing by. All houses have a private pool and garden.
An ideal place for those seeking rest and relaxation, away from the main population centers of the island and in the midst of an environment that combines nature with the rural world. Without a doubt, a site tailored to those who love nature and healthy living. Here you can find a wide range of activities: from agro-tourism tasks, bird watching, hiking, bike rides, cultural routes and astro-tourism.
With the design of a traditional Majorero house, but with the comforts of a modern accommodation designed for you to enjoy a unique rural and natural environment. An ideal place for those who want something different. A place where you can spend a few days discovering the most authentic elements of the Fuerteventura Biosphere Reserve. Just a few kilometers from some of the best beaches on the island, and away from the bustling tourist centers of the coast.
CASA TARABILLA

Ideal for small groups seeking tranquility without giving up all the comforts of a large family home. Perfect for combining an active vacation touring the island's paths on foot, cycling through endless roads or surfing some of the best waves in the Atlantic, all with a quiet accommodation where you can bronze under the sun, take a sauna, swim in our pool, meditate, do yoga or simply get distracted looking at the landscape at sunset, after enjoying a limitless day.

 
El Cotillo
If what you want is to fall sleep with the whisper of the sea and have breakfast breathing in the breeze and the salty air, this is your place. You have the possibility to take a dip just 10 meters from the accommodation, walk to "Los Lagos" and float in one of its natural pools, or go to "Piedra Playa" and practice surfing on this kilometer-long beach.
Located in the municipality of La Oliva, in the fishing village of El Cotillo, a few meters from some of the best preserved beaches on the island of Fuerteventura.

Ideal for families or couples who want to relax near the beach, surf or savor the rich local cuisine.

From here you can go on foot or by bicycle through hidden corners of nature rarely visited by conventional tourists and, above all, enjoy some of the most beautiful sunsets you have ever contemplated.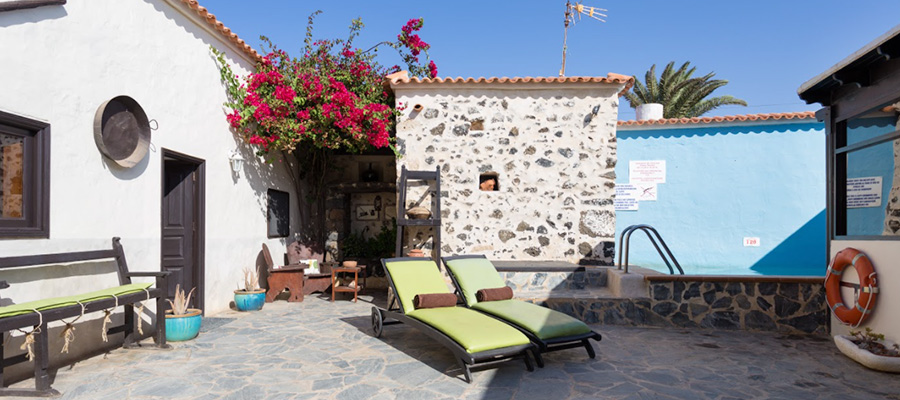 El Roque
This property brings together a little of everything, the tranquility of a small town full of traditions, and the proximity to Cotillo and Corralejo to enjoy their wonderful beaches.
A traditional century-old Majorero house, which combines antique architecture with modern comforts, such as the private pool, which make it especially comfortable. Several generations of the Mesa family have lived in it and now they want you to enjoy it as one of them. A few kilometers from the wild beaches of El Cotillo, the magical mountain of Tindaya and Malpaís de la Mascona, symbols of the Fuerteventura Biosphere Reserve.
Did you know that rural houses have become the best alternative in the age of Covid 19?
We respond to some of your questions regarding rural tourism and activities that may be carried out in Fuerteventura.